George Mathew
Artistic Director and Founder
Singapore-born, Indian-American conductor, George Mathew, founder and Artistic Director of Music for Life International and the Ubuntu-Shruti Orchestra, has emerged as one of the leading forces in the classical music world, bringing symphonic music to focus on global humanitarian issues and crises at the beginning of the 21st Century. In recent seasons he has appeared in the US, Australia, Jordan, India, Panama, Morocco, the Netherlands, and South Africa as conductor and ambassador for transformative action through music. Mr. Mathew and Music For Life International were honored with the 2016 Robert and JoAnn Bendetson Award for Public Diplomacy from the Institute for Global Leadership at Tufts University, for their services to global public diplomacy through music.
Mr. Mathew and Music for Life International returned to Carnegie Hall on January 28th, 2019 for their eighth global humanitarian concert, Beethoven for The Rohingya, a performance of Beethoven's monumental Ninth Symphony dedicated to raising public consciousness and material resources for the Rohinyga refugees fleeing ethnic cleansing and genocide in their native Myanmar. MFLI's other global humanitarian concerts have included Beethoven's Ninth for South Asia (2006), Requiem For Darfur (2007), Mahler for the Children of AIDS (2009), Beethoven for the Indus Valley (2011), Shostakovich for the Children of Syria (2014), The Scheherazade Initiative (2015), focusing on Violence against Women and Mahler For Vision dedicated to ending cataract blindness (2017). These concerts, presented in Carnegie Hall, have brought together distinguished musicians from over 120 leading international ensembles including the New York Philharmonic, MET Orchestra, Berlin Philharmonic, Vienna Philharmonic, The Philadelphia Orchestra, Boston Symphony, Israel Philharmonic, Cincinnati Symphony, San Francisco Symphony Orchestra, Hong Kong Philharmonic, Shanghai Symphony, the Emerson, American, Guarneri and Brentano String Quartets, and students, graduates and faculty of The Juilliard School, Curtis Institute, Royal Academy of Music, Manhattan School of Music and others. They have also raised more than US$3.4 million since their inception.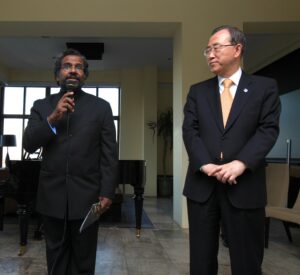 Since then program partners have included HelpMeSee, United Nations Trust Fund to End Violence Against Women, UN Women India, Acumen Fund, Doctors Without Borders, UNICEF, Refugees International, Catholic Medical Mission Board, American Jewish World Service, National Council of Churches in the USA and Questscope.
George Mathew and these humanitarian concerts have been profiled by the global media, including BBC WORLD TV and Radio, CNN International, ZEE TV, Public Radio International, the New York Times, Wall Street Journal, Bloomberg News, New York magazine, the US State Department, Radio France, Voice of America, NY1 television, National Public Radio's Weekend Edition and Morning Edition, the Indian Express, The Hindu, the Pakistan Daily Times, DNA India, Musical America and Symphony magazine.
George Mathew made his India conducting debut in New Delhi with the Neemrana Opera and the Bombay Chamber Orchestra at Siri Fort Auditorium. He made his Central American debut in June 2010 at the Music Festival of Panama in Panama City and was re-engaged for the 2013 Festival. In May 2011, he made his African debut with the Johannesburg Philharmonic. Mr. Mathew made his conducting debut at the United Nations in October 2007.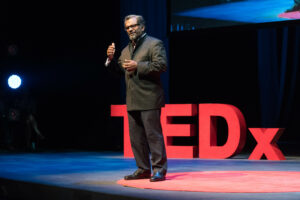 George Mathew has spoken on music and social impact around the world at such venues as TEDxWanChai, INKTalks (India), and events hosted by UNDP and UNICEF. In 2011 he delivered the 4th Annual S.T. Lee Lecture on Social Justice and Public Policy at Witwatersrand University, Johannesburg. Mr. Mathew spoke at the United Nations Development Program's 2010 'Capacity IS Development' Global Event in Marrakech, Morocco, presenting the orchestral paradigm as a new leadership model for developing institutions and capacity in the twenty-first century. In December 2010, he was a featured speaker at the first INK conference held in association with TED, in Lavasa, India. He has also lectured on transformative social impact through music at Amherst College, Manhattan School of Music, Southern Connecticut State University, Tufts University and at institutions such as Acumen Fund, IBM India, IDIOM Design, and UNDP Panama.
In December 2010, Mr. Mathew launched UBUNTU-SHRUTI, a new professional training orchestra of young empowered musicians and distinguished mentors creating inspired music and programming dedicated to immigrants, community, and education through music. The Orchestra will be modeled after the Berlin Philharmonic Academy and be mentored by distinguished musicians from the New York Philharmonic, MET Orchestra and Los Angeles Philharmonic. In 2010, Mr. Mathew was named Artistic Director and Conductor of the New Year's Eve Concert for Peace at the Cathedral of St. John the Divine in New York City. This historic concert, held annually in the largest Cathedral in North America, was founded in 1985 by Leonard Bernstein. His first Concert for Peace there, held on December 31, 2010, was titled "MASS IN TIME OF A DRONE WAR" and featured Josef Haydn's Mass in Time of War as well as Jewish, Christian and Muslim music. Their second New Year's Eve Concert on December 31, 2011 featured Michael Tippett's "A CHILD OF OUR TIME" with the Dessoff Choirs and UBUNTU-SHRUTI. These concerts marked the first public appearances of MFLI's new professional training orchestra UBUNTU-SHRUTI.
George Mathew has held academic positions at Manhattan School of Music, Amherst College, the University of Minnesota, Mount Holyoke College and Tufts University, where he served as Director of Orchestral Studies. He is a graduate of Amherst College, the University of Minnesota and the Manhattan School of Music.