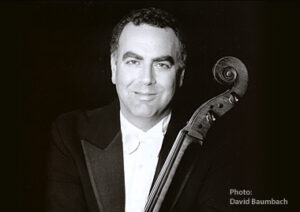 Soloist, principal cellist, chamber musician, recording artist, and distinguished teacher, Alan Stepansky is known internationally as a musician whose multi-faceted career exemplifies the highest ideals of artistry, versatility, and devotion to teaching and mentoring the next generation of gifted young cellists. One of the most inspiring cellists of his generation, he has appeared as a guest artist of the Chamber Music Society of Lincoln Center, the Mostly Mozart Festival, the Washington National Gallery of Art, the Frick Museum, Camerata Pacifica, Brooklyn's Bargemusic, and Jazz at Lincoln Center, and has performed in concert with a diverse array of artists across many genres from Isaac Stern, Emanuel Ax, Renee Fleming, Frederika Von Stade, Ruth Laredo, Glenn Dicterow and the American and Takacs String Quartets, to such pop icons as Sting, Bruce Springsteen, and Natalie Merchant. After becoming Principal Cellist of the Boston Pops under John Wlliams and a frequent performer in the Boston Symphony Orchestra in his early twenties, he rose to prominence in the orchestral world a few years later, when he was chosen by music director Zubin Mehta to be the Associate Principal Cellist of the New York Philharmonic. After ten years of combining this position with many solo, chamber music, and teaching oportunities, he decided to devote more time to his involvement in teaching while simultaneously expanding into a wider range of performing and recording activities.  He is currently Professor of Cello and Chairman of the Strings Department at the Peabody Institute of Johns Hopkins University, cello professor and founding faculty of the graduate Orchestral Performance Program at the Manhattan School of Music, and cello faculty artist of one of the world's most prestigious summer festivals, the Music Academy of the West in Santa Barbara, California.
He has recorded a series of chamber music and solo discs for EMI which were honored by Gramophone Magazine, BBC Magazine, The New York Times, and the British Music Industry Association, and has been engaged as the solo cellist for numerous major motion picture and television soundtracks, including such films and series as Adaptation, August Rush, Being John Malkovich, The Brave One, Extremely Loud and Incredibly Close, The Good Shepherd, The Greatest Showman, Kinsey, The Last Holiday, Manchurian Candidate (2004), The Marvelous Mrs. Maisel, Michael Collins, Moonrise Kingdom, Music Of The Heart, Olive Kitteridge, Primary Colors, The Rookie, A Serious Man, Titanic, True Grit, and many others. He has also appeared on the albums of numerous recording artists across many genres, including Bruce Springsteen, David Byrne, Natalie Merchant, Audra McDonald, Harry Connick Jr., Judy Kuhn, Joss Stone, Shawn Colvin, Lou Reed, and Sting, and is a featured artist on Sting's latest CD, "The Last Ship".
Dedicated to the idea that music should be used to help raise consciousness and funds for meaningful social causes, he serves on the Board of Directors of Music for Life International, and recently appeared as the Principal Cellist for five major fund-raising events held in Carnegie Hall - Beethoven's Ninth for South Asia, Requiem for Darfur, Mahler for the Children of AIDS, Beethoven for the Indus Valley, and Shostakovich for the Children of Syria - all featuring an international orchestra drawn from leading symphonic, chamber music, and solo artists from around the world. After studies at the Curtis Institute of Music and the University of Pennsylvania, Alan graduated from Harvard University with a degree in music theory and musicology and the Horblit Prize, conferred for his outstanding musical accomplishments. His teachers included Orlando Cole, Laurence Lesser, Leon Kirchner, and Harvey Shapiro.  Among recent engagements, he returned to perform as soloist with the Boston Pops Orchestra in Symphony Hall, and has appeared as soloist with the New York Philharmonic and many other orchestras.
A guest at many summer festivals, he has appeared at the Texas Music Festival, Domaine Forget Festival in Quebec, the Heifetz Institute, the National Orchestral Institute, and as the international cello artist of the Beijing International Music Festival in Beijing and Shanghai. He has given master classes in conservatories and university music departments around the world, including the Hong Kong Academy, Tokyo's Toho School, and Faculdades De Artes Alcantara Machado in Sao Paulo, Brazil, as well as at Rutgers' Mason Gross School of the Arts, University of Delaware, and Harvard University; he also recently served as a visiting faculty artist at the New World Symphony in Miami, Florida. As a teacher, Alan Stepansky works intensely and energetically with his students to help them reach their potential both as expressive artists and as instrumentalists seeking the mastery of technique and style necessary to meet the practical demands of a multi-faceted career as a cellist active in many genres. His students have won positions in numerous orchestras in the United States, Europe, and Asia, including the New York Philharmonic, Philadelphia Orchestra, Seattle Symphony, St. Louis Symphony, Montreal Symphony, Shanghai Symphony, Orchestre Symphonique de Quebec, and the Los Angeles Philharmonic, and have successful careers as soloists, chamber musicians, and teachers.