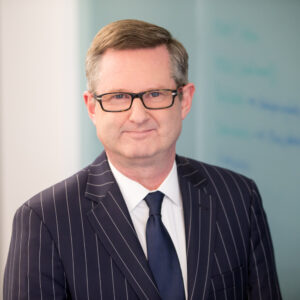 Robert W. van Zwieten is the President, CEO and Member of the Board of Directors of DNA Holdings Corporation (PSE ticker: DNA), the Philippines' only publicly listed healthcare company. In these roles he provides overall strategic and operational leadership to the company. His responsibility is to execute on DNA's vision of bringing accessible, affordable and accurate healthcare and empowerment to all Filipinos under the country's recently adopted universal health care system. It will do so by investing in and operating healthcare facilities, and by introducing cutting-edge medtech innovations and digitization of medicine. The company, also known as Philab Holdings Corporation, has a rich 60-year history of market leadership in building the most sophisticated academic, research and diagnostics labs in the country.
Robert is also the founder and CEO of The Serendra Group LLC, a boutique advisory firm that helps build sustainable businesses across emerging markets. He is a senior leader and strategist in global financial markets, with 30 years of experience, passionate about advancing private capital investments, to generate both financial returns and sustainable development. Robert has conducted business and led teams, transactions and projects in the United States, Europe and Asia, and lived and worked in all three for extended periods. His experience spans Chairman, President, CEO, COO, CAO, CFO, CIO, MD and global and regional treasurer roles, straddling private, public and non-profit sectors. Amongst others, Robert is a member of the Singapore Institute of Directors and the Philippines' Institute of Corporate Directors.
From 2013 through 2017 Robert served as the President and CEO of EMPEA, the global industry association for private capital in emerging markets, based in Washington DC. EMPEA is an independent non-profit organization with over 300 member firms compromising institutional investors, fund managers and industry advisors, who together manage more than $5 trillion in assets. It supports its member firms through global authoritative intelligence, conferences, networking, education and advocacy. Immediately prior to this, from 2009 through 2012, Robert served as the Asian Development Bank's Director of the Private Sector Capital Markets Division, based in Manila, Philippines. In this role, he was responsible for originating and structuring $2.5 billion in debt and equity transactions across 40 emerging Asian markets.
Before joining ADB, Robert worked in global financial services for 22 years. He served as Managing Director and COO of an Asia-focused hedge fund venture and prior to that as Executive Vice President, CFO and Member of the Executive Committee of the Singapore Exchange. His experience further includes roles as Senior Vice President, CAO and other global leadership roles at Lehman Brothers in New York; Managing Director and Global Treasurer with GE Energy in Atlanta; and Managing Director and Treasurer for GE Capital Asia-Pacific in Hong Kong during the Asian Financial Crisis. Earlier in his career, he worked in ABN AMRO Bank's Global Clients & Investment Banking Division in Amsterdam, Chicago and Singapore, in both client and product roles, and with Royal VOPAK as a corporate lawyer in Rotterdam, the Netherlands.